Raw Material Setup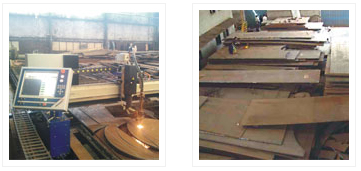 We hold normally 2000 to 3000 tonnes of steel in our works to ensure on time delivery to clients.

The material is confirmed prior to manufacturing with all required Chemical, Physical and ultrasonic tests by our Quality Control department.

We hold a strong setup of raw material in various thickness ranging from 5 mm to 250 mm thickness of reputed mill.

We also have full fledged facility of CNC profile cutting with modern machines and equipment for better quality.
Plant Machinery

As we aim to achieve higher goals in coming years, we always focus on the capacity and setup though which we can attain the customer requirements on time.

We manufacture flanges with latest techniques and machinery at our highly upgraded equipment facility. We use Hydraulic Presses of up to 500 tonnes capacity for bending and rolling of flanges. Our Welders are qualified as per ASME DIN standards in SMAW and MIG (Co2) welding technique, range qualified up to 118 mm Thickness and our clients rely on our quality welding process. We have Ultrasonic Testing and Radio Testing facility of international standards.

The Machine Shop is well equipped with heavy size Lathe Machines & VTL Machines with in house facility of machining up to 6000 mm diameter for faster and better production.

The Drilling Shop consists of heavy radial drills of 3 to 4 inch capacity with multi spindle drill machine for drilling of nozzle flanges in bulk quantity.


Get in touch with us